About
FreeMotion was founded in 1999 based on a simple, yet bold observation: One-dimensional training doesn't carry over to a three-dimensional world. In the multidimensional world, Freemotion realized twisting, turning, and moving in all planes formed all-natural movements.
Freemotion Fitness is part of ICON Health and Fitness, the world's largest manufacturer of exercise equipment. The privately held company employs about 2500 people in 9 locations, including facilities in China, Europe, and North and South America. ICON Health & Fitness has a wide range of brands, products and technologies, including the brands NordicTrack, ProForm, Weider, Gold's Gym and FreeMotion Fitness. Their fitness technology brand, including WiFi-enabled fitness equipment and fitness wearables, is iFit. The company also has a running and trail shoe brand named Altra footwear.
Company Overview
We are trusted by our partners to deliver the ultimate mix of science, innovation and the love of living a full life. We tap into the human potential and play our part in the harmony of body and mind.
We use our heritage as the world's largest fitness company to push every piece we create to be a means to an end for the members who show up day after day to do the work that lets them live their biggest, fullest lives.
INNOVATION
• Inventors of cable-based, functional training.
• Created the first, all-standing line of progressive-resistance cable training.
• Created the first line of dual-station, cable-based strength machines.
• First company to introduce Gates® Carbon Drive™ technology to indoor cycling.
• Only company with interactive iFit® Technology in commercial products.
• Introduced the Incline Trainer in 1999.
• Introduced FreeMotion TV interactive education program.
INFLUENCE
• 48 countries
• 7,000 clubs
• 56 million members
• 6.7 billion consumer touches per year
• Double digit annual growth
Products
Strength Solutions: Genesis™, Genesis DS™, LiveAxis™, Epic Selectorized, Epic Free Weight
DUAL CABLE CROSS
F624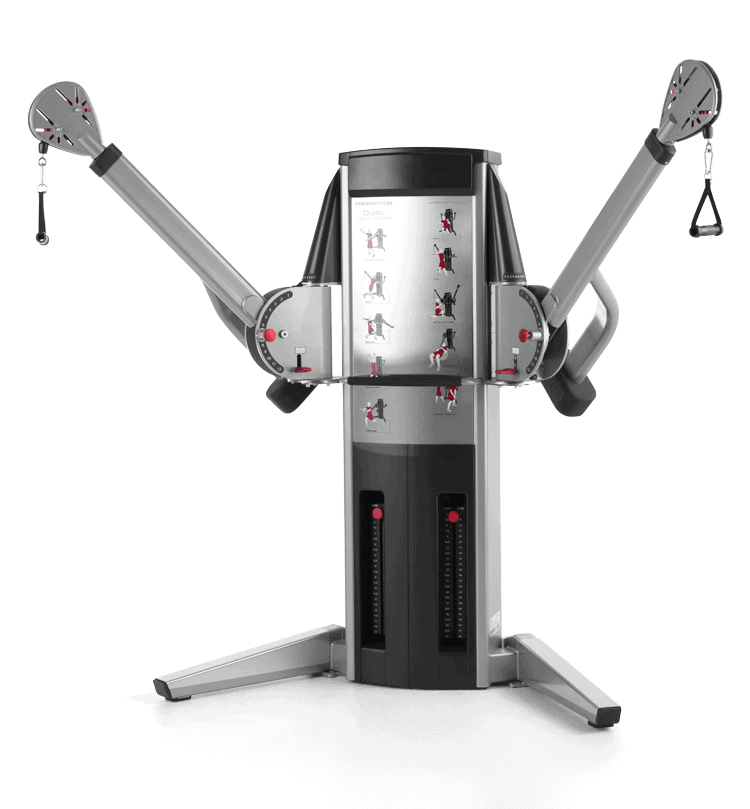 The Genesis Dual-Cable Cross enhances strength by allowing users to perform movements that mimic activities in everyday life. Functionally trains the muscles of the entire body to work together while building stability and coordination. Every muscle and plane of motion can be worked and challenged on this unique machine.
In 2016, Golf Digest named the Free Motion Fitness Dual Cable Cross as the best universal fitness equipment in their Editor's Choice award.
Dual Cable Cross F624 Brochure
---
DUAL CABLE CROSS LITE
VFMCS4007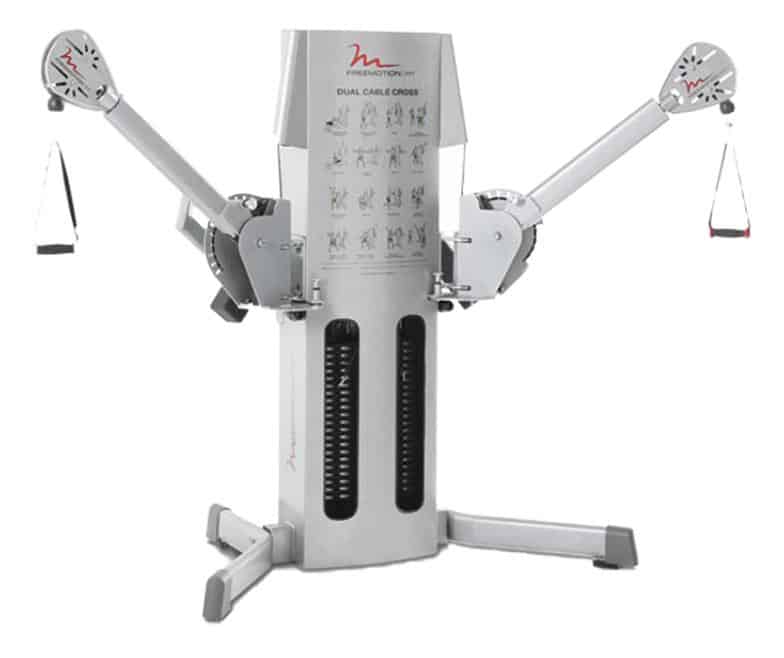 Slightly smaller than the original Dual Cable Cross, this modified version is ideal for rehab facilities, studios, hospitality and rec centers. The same amazing flexibility and full body benefits as the traditional machine, the Dual Cable Cross Lite is a hybrid strength training and aerobic machine that boosts the heart rate to burn calories and build muscle mass. One-of-a-kind Freemotion cable creates a workout that's as beneficial going down through the initial movement as it is going up. The counter-balanced arms make it effortless to change positions and target a different part of the body, while the open design makes it welcoming for all body types and ADA compliant. The generous cable travel makes the Dual Cable Cross Lite open to a variety of movement and works well for training two people at once.
Dual Cable Cross Lite Brochure
---

---

---

---

EPIC SELECTORIZED Line Brochure
---

Cardio Solutions: Treadmills, Incline Trainers, Indoor Cycles, Tour de France Bike, Ellipticals, Upright Bikes, Recumbent Bikes

---

---

---

---

---

Learn more @ https://www.freemotionfitness.com/
Freemotion Academy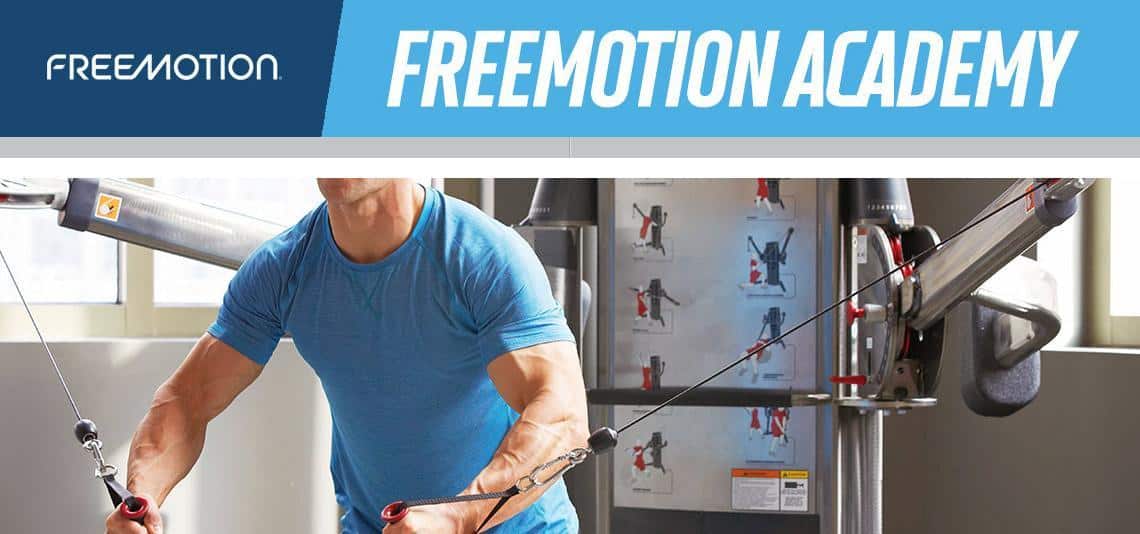 Created by the Freemotion Education Team, the Academy is designed to guide trainers, members and customers through FreeMotion-specific education courses.
Explore the many categories below based on the products and programs available in your club. You'll find instructional videos, marketing materials, goal-specific workouts and more.
Once you study the content, simply complete a short multiple-choice exam. In a matter of minutes, you will be on your way to free continuing education credits.
Learn more @ http://freemotionacademy.com/
READ MORE